1858 June 5 Letter to George D. Grant, et al.
Title
1858 June 5 Letter to George D. Grant, et al.
Description
Trade to be stopped in Salt Lake. Men should be sent to buy all goods sold by Ben Simons before he enters the city. Other traders should be sent to Provo.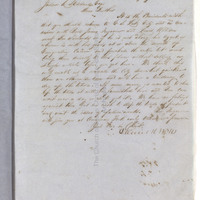 1858 June 5 Letter to Judson L. Stoddard
Recipient
George D. Grant
William H. Kimball
Lewis Robinson
Robert F. Burton
N. V. Jones
Subject
Business Matters
Security
extracted text
Provo City, June 5, 1858
Messrs. Geo. D. Grant, W,s. H. Kimball, Lewis Robison,
Robert F. Burton and N. V. Jones
Dear Brethren,
Your note per James McDonald was received at (1/2) past 7 this evening. The President proposes that Bro. Judson L. Stoddard, Lewis Robison and James Ferguson go out to meet Ben at Killian's or some place at or above the mouth of the Canon and buy him entirely out, and let the goods be brought direct to this place without going into the City at all. Bros. Robison & Rockwood can turn over to Ben whatever they have on hand for him and had better then close up the store at that place. We expect soon to have a place prepared here for the ammunition, If more money is needed to close up for the goods, than the supplies on hand come to we will furnish the remainder. Don't let a solitary item of goods or groceries be sold short of this place. This is wisdom. If Henry Lawrence and R. R. Hopkins bring in goods let them also bring their goods here without opening them, that all trade may be stopped in that City. You can now give out word accordingly. Let Ben understand that you are all coming away and cannot attend to this business any longer, and we do not wish to have him or any one else follow us up with any more trade. We shall always be glad to see him when he desires to pay us a visit as well as his band but there will not be any body in G. S. L. City to trade with him any more. God bless you.
Your bro. in Christ
Daniel H Wells
P. S. Bros. Ferguson and Stoddard will follow close after the express.