1858 July 1 Letter to Alfred Cumming
Title
1858 July 1 Letter to Alfred Cumming
Description
Brigham arranges the return of livestock taken from U.S. troops.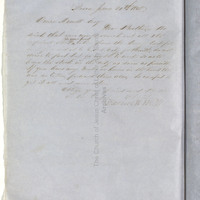 1858 June 30 Letter to Onice Newell
Subject
Livestock
Military
Security
extracted text
Great Salt Lake City,
July 1, 1858.
Sir:---
In arresting the progress into our settlements of certain armed forces subsequently ascertained to be a detachment of the U. S. Army, a considerable amount of stock was taken by the citizens of this Territory. The object of this was simply to compel the halt of such forces until the purpose of their advance into the Territory was ascertained. Past difficulties, real or alleged, having been agreeably adjusted, the earliest opportunity is now improved to return as far as possible the property so taken. This offer is freely and voluntarily made through you to General Johnston, who will please to designate the time and place for its reception. If this meet your approval, your early attention to the matter is solicited, as the stock is now being gathered to this place, where it is neither proper nor convenient to keep it for any length of time.
I have the honor to remain,

Very respectfully,
Your obedient servant
His Excellency
A. Cumming, (signed) Brigham Young
Governor U. T.