1862 January 30 Letter to John M. Bernhisel
Title
1862 January 30 Letter to John M. Bernhisel
Description
Brigham acknowledges the receipt of documents. He shares his thoughts on Federal Judges, the new Constitution and the election of Legislatures. He lists benefits that Utah Statehood would provide the U. S.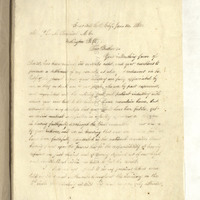 1862 January 14 Letter to John M. Bernhisel
Type
Correspondence
Goverment/Legislature
Location
Great Salt Lake City
Washington City, D. C.
Subject
Reading Material
Government
Crops
Statehood